Published the 18 July 2023
By now a staple of the
Romagna summer
.
The biggest irreverent and loudest
music festival of the summer
.
The
Bay Fest of Igea Marina
returns in August with its irrepressible punk rock soul.
Three days of the best international punk rock
ever, events, shows and lots and lots of music that will break your ears and make you sing and jump.
Where?
At the Pavese Park of Igea Marina
, practically on the beach.
When?
12-13-14 August
..
Who is there? The best as always but this year better than ever. THE TOY DOLLS, PULLEY and Svetlanas will be the headliners of the various evenings accompanied by UK Suburbs, Pennywise, Good Riddance, Scream, Versus the world, Authority Zero and Venomous Pinks.
Thousands and thousands of punk rock enthusiasts from all over the world will arrive in Igea Marina for 3 days of pure punk and transgression.
Guaranteed fun for everyone.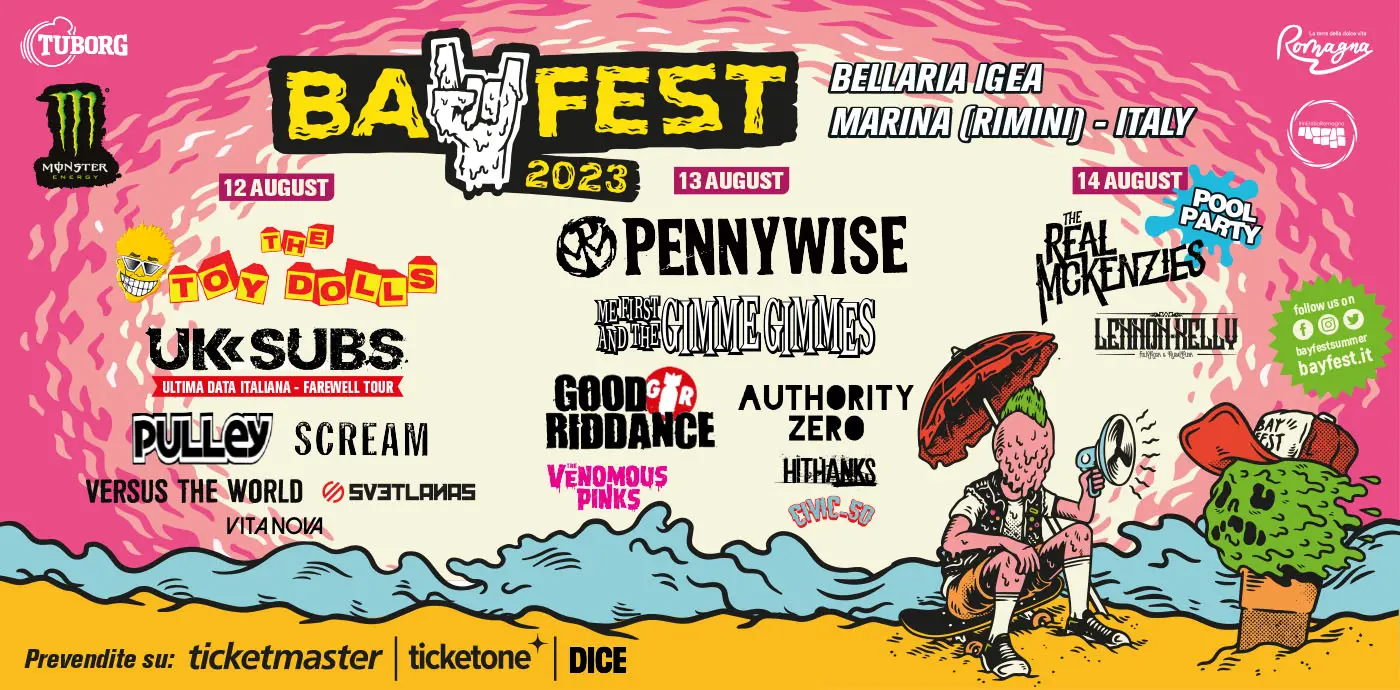 Now all you need to do is organize yourself to combine a little
beach holiday in Igea Marina
with wild punk-inspired evenings.
Nothing could be easier, staying with us is your solution because we are really close.
From our Hotel you can reach the Bay Fest directly on foot in 3 minutes
. You won't have the thought of having to find a parking space for your car or problems having an extra beer with friends. So
go back to the hotel on foot!
We are
close to downtown
and even closer to the beach.
We give you
beach towels for free
, your suitcases will be very light
The reception and bar
are open 24/24 7/7, come back whenever you want
.
You can bring your
4-legged friend
with you: he can
stay
with you
in the room and follow you to the beach
.
And many other things..
Here are the dates with all the various concerts:
AUGUST 12- BEKY BAY
THE TOY DOLLS – UK SUBURBS, PULLEY – SCREAM – VERSUS THE WORLD – SVETLANAS + contest winne
AUGUST 13 – BEKY BAY
PENNYWISE – ME FIRST & THE GIMME GIMMES – GOOD RIDDANCE – AUTHORITY ZERO – VENOMOUS PINKS + contest winners
14th AUGUST – Pool Party, MAPI CLUB
H2O + contest winners
(CANCELLED)
Tickets for single days on sale on Ticketmaster, DICE and TicketOne
Season tickets available on Ticketmaster and TicketOne
Festival + camping packages available only on Ticketmaster.
We are waiting for you!